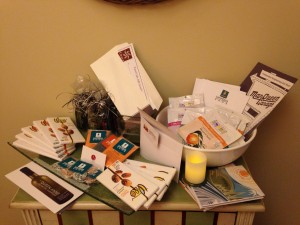 It's my 4th Anniversary at my current location! I sincerely thank each one of you for the opportunity to work with you, and for your referrals of family and friends.
Thank-You Gifts this Month
Everyone who comes in for a session during April will get to take a little something home. I'll have Theo organic and fair trade chocolate bars, and Aura Cacia bath salts for you to choose from. I also contacted some neighborhood merchants and several have contributed to this offering  (I love Queen Anne!). Some of the other great tokens to choose from (while they last!) are:
From El Diablo Coffee Co.: 3 cards Worth 2 Drinks Each
They have fun but they take coffee seriously! And I just had one of their amazing hot cocoas made by grinding up Mexican chocolate bars and adding cinnamon. Yum…
From Cederberg Tea House: 1-$10 Gift Certificate
Owner Natasha uses her family's recipes for S. African pastries baked in-house, to go with her lovely teas (and espresso–she said, "It IS Seattle, after all…"). Try the Rooibos latte!
From Umpqua Bank: Bags of Coffee, Tea, Chocolates, Inspirational Books, & Notepads
This is a fun & friendly bank-I even got to meet the manager's adorable Havanese puppy, Wilson, who was hanging out!
From Twirl Cafe: 3-$10 Gift Certificates
I bring my niece and nephew here when they are in town and grab food or coffee even when they're not. Check out all the activities and classes they offer!
From Marqueen Garage: Certificate for a Radiator Coolant Flush ($125 Value!)
Diane is the friendly owner of this longtime neighborhood auto shop, and she does a lot for the Queen Anne business community.
From Queen Anne Olive Oil: 4 Sets of Olive Oil & Vinegar, 10 Coupons for Free Balsamic Vinegar
Owners and brothers Gary & Larry Graham bounce between hemispheres to bring us the freshest, best quality and largest variety of oils. Lots of interesting flavor combos!
Massage Drawings Too!
In addition, everyone who comes in OR buys a gift certificate during April will be entered into a drawing for one of two 60 Min. massage gift certificates!
Schedule your April massage appt. soon–times are filling fast!
My Anniversary, Gifts for You!